Burak Deniz's latest photographs and videos show him seeing Anil Kapoor and listening to Hindi tunes in a car after his 'great' India trip.
Burak Deniz, a Turkish actor, was in Mumbai this week. Burak, known for his roles in Don't Leave and The Ignorant Angels, attended an event alongside actors Anil Kapoor, Sobhita Dhulipala, and Aditya Roy Kapur. In a video, he also grooved to Salman Khan and Aamir Khan's song Ye Raat Aur Ye Doori from their cult film Andaz Apna Apna. The actor recently visited the ISKCON temple in Mumbai and shared a slew of videos and photographs on Instagram.
Burak captioned his Instagram photos of the Mumbai skyline and peeks of his temple visit, "India." Thank you for a wonderful experience!" He provided several videos of ISKCON temple prayers. In addition, the actor shared photographs and videos of himself wearing a flower garland around his neck. There was also a photograph of him sitting inside the shrine with his hands folded. He also tweeted a video of his car passing by supporters on bikes as they exchanged greetings.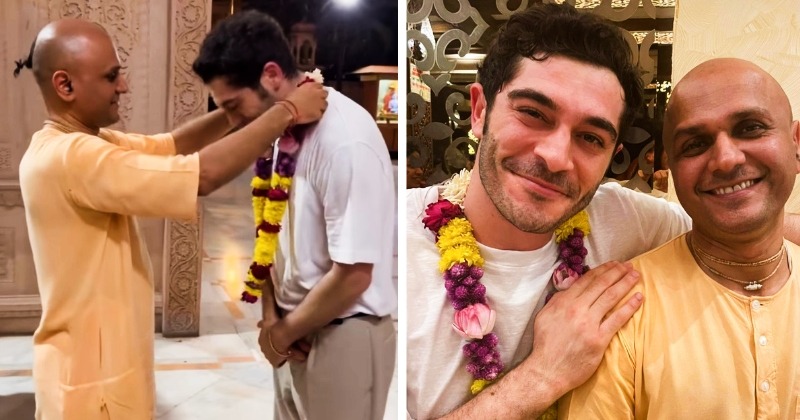 Many people enjoyed seeing images from the actor's trip to Mumbai. One follower commented on his post, saying, "I'm so glad you visited India and experienced the culture and diversity." People here adore you…" "I hope you had a pleasant stay in Mumbai, India," said another. I adore you, and you are stunning." "You were here in India, I can't believe it, and you went to the ISKCON temple… thank you for respecting our culture," remarked another. "I love you even more now."
This is the actor's first trip to India, which he discussed in a recent interview. "I wish I had come to India sooner because I know your culture and adore everything about it; it's incredible." I'm well-versed in it and eager to learn more. I wanted to spend more time if I wasn't so busy with the numerous things I do as a career in my own nation. "It's a large culture," Burak stated in an interview.
When asked about his fan base in India, Burak replied, "Let's see, this is my first time!" Because our cultures are so similar, our projects are likewise on the same level. Because both of our initiatives are sensitive, we understand each other. Because of this, people here regard me like a family member. This is also a powerful experience for me."